Blog
Kitchen range features, industry articles and C & C Kitchens' latest news.
Kitchen Design Advice
Published 09/04/2013
In the beginning
…there was a tired kitchen in need of renovating. Things have come to a head and after years of saying the kitchen has to go, you finally decide the time has come to commit to installing a new kitchen. Whether you have just moved home, extending your home or you are just planning to remodel the kitchen you have, the mountain of choices now facing you is immense. Over the last ten years there has been an explosion in the sheer amount of available ranges and finishes in kitchens that can sometimes overwhelm those who are unprepared.
Those shopping for a new kitchen will have to make decisions about door style, finish, drawer boxes, storage solutions, lighting and handles as well as worktop material and colour, splash-backs, flooring finish and wall colour! All these choices that need to be made are in addition to what appliances you will want and what other work will be required to get the room ready for the new kitchen. It sounds like hard work because it is hard work. The kitchen is the heart of most homes and to replace it needs a lot of thought in order to achieve the best results.


start early
Gather as much information as you can BEFORE you go to any kitchen showroom. Buy some magazines for inspiration such as Beautiful kitchens and browse the internet for the style of kitchen that really leaps out at you. Whether it is a sleek Handleless kitchen or a traditional country kitchen look, one style will appeal to you more than anything else. This is the most important first step.

Once you have the style of kitchen decided upon, a good kitchen designer can use the features of the range you have chosen to create a beautiful design. Different ranges have design elements that if used correctly, lift a basic kitchen design to a great kitchen design. Having a clear idea of the look you are after (modern or traditional, handleless or with handles) will keep you focused when looking around kitchen showrooms as in a good kitchen showroom everything looks fantastic!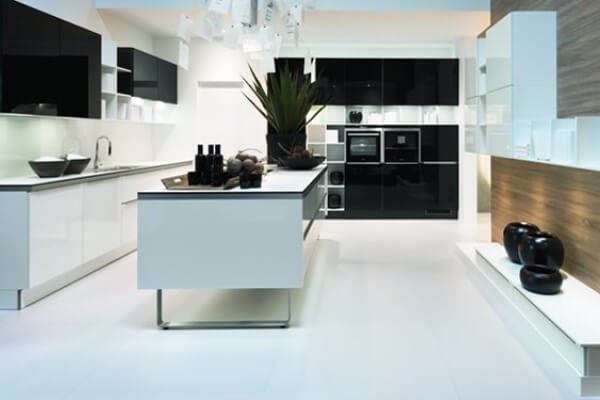 Make a list – of things you hate

Making a list of things you dislike about your existing kitchen will help determine what you are likely to find most important to have in the new one. An excellent tool for refining your ideas is a mood board or scrapbook of the things you have found when doing some basic research which can be referred back to should you get jaded by the plethora of choices available to kitchen purchasers today.

Ask yourself how you will use the kitchen, the best kitchen designs are always a collaboration between designer and client. A good designer can breathe life into your own ideas. The kitchen designer will need to know how you want to use your kitchen (entertaining, family eating, home cooking). If you have thought about this clearly it will only help the design in the long run.


wish list

Finally, make a list of goodies! There are some fantastic gadgets (like the dispenser larder above), cooking appliances, storage solutions and lighting effects available. Islands, banks of tall units mantles over range cookers – some of the most popular 'looks' we get asked for should also be jotted down to give your kitchen designer a clearer idea about you so that more of you makes it into the kitchen design. You may not fit all the wish list in, there is ALWAYS a compromise somewhere along the line, but the kitchen designer will be better armed with the information they need to give you what you want – a great kitchen design.

We hope the above will (hopefully) be useful in organising your thoughts when getting ready to design your new kitchen.
Initially overwhelmed by the options, we decided on C & C Kitchens mainly because of the chief designer Victoria who exuded competence, we were not disappointed. We would recommend C & C Kitchens wholeheartedly.
Mrs Gollop, Hertford
Completely seamless from start to finish ! Couldn't beat them ! A great job well done.
Mrs Woolard, Cheshunt
Fantastic design, competitive pricing. This is my second kitchen I bought from C&C and I'll definitely be back should I need another.
Mrs Brandon, St Albans
C & C Kitchens
24, The Fairways New River Trading Estate
Cheshunt
Hertfordshire
EN8 0NL