Blog
Kitchen range features, industry articles and C & C Kitchens' latest news.
Top Ten Kitchen Trends 2021
Published 12/11/2020
Whether you are interested in kitchen design or looking to start a kitchen project, we have collected ten examples of the most current kitchen trends to look out for in 2021.
1. Gold Standard
Sinks and taps are available in a variety of colours, textures and finishes. The look of the wet area of your kitchen is equally as important as the functionality. The size, shape and material chosen for the sink impacts the overall aesthetic of the kitchen.
Gold or brass effect sinks are more and more popular with most sink manufacturers adding a gold sink and tap to their range. When twinned with matching handles, the effect is stunning and is the first kitchen trend on the list.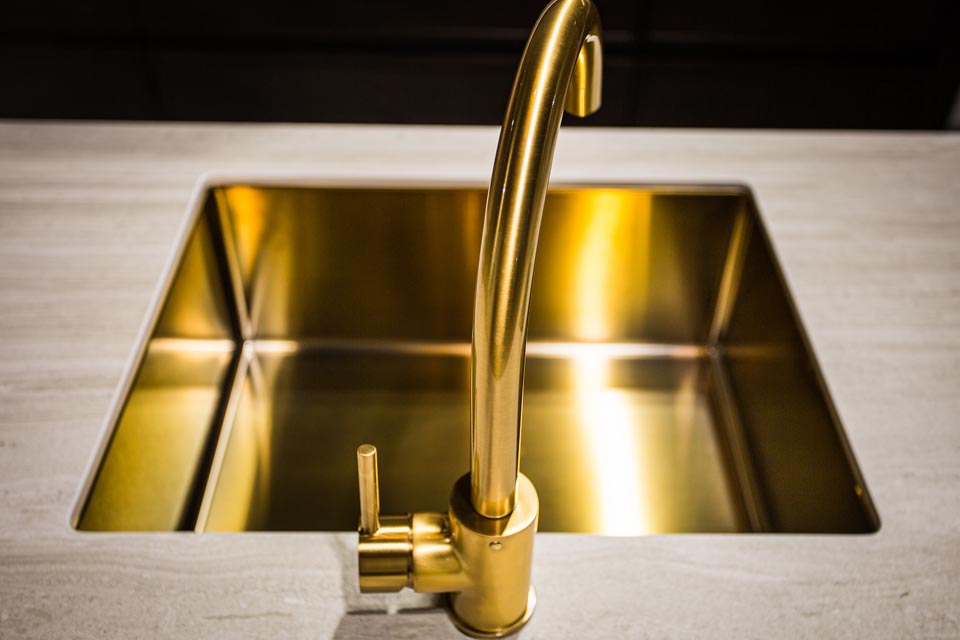 Gold sink and Tap on Display
2. Dramatic Black

In the past, black has been used as just an accent colour. Now it is taking centre stage as the fashion for shaker style has grown and is our second kitchen trend to look out for next year. Multiple furniture makers are realising the grandiose statement that a black kitchen can make. If a warm wood is introduced it can soften and warm the look so that it makes for an inviting space rather than seeming cold. Dark black worktops with ripples of lighter material also add drama to the kitchen area.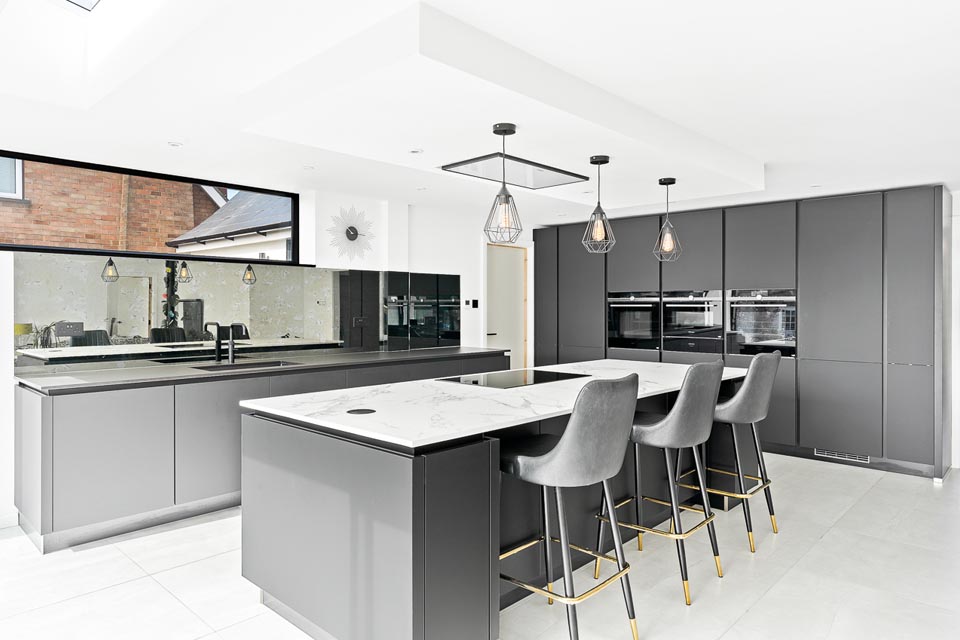 Real Kitchen installation - Nolte Pheonix Matt Black
3. The Beauty of Stone

Those who work with stone know that there are over 200 natural stones available which are hardly utilized or seen as mainstream for the kitchen industry. However, the natural beauty of highly veined marble or granite has found a following. Carrara Marble is immensely popular it's grey veining adds drama to the worktop. Although man made stone can imitate it, nothing has replicated the stunning look of this natural material.
Natural Marble worktop and splashback
4. Handleless Kitchens

While it has been a noticeable entry in kitchen trends over the last ten years, handleless kitchens are still highly sought after and fashionable. Nothing can produce an uncluttered, sleek and streamlined looks as handleless kitchens can. Woods and colour or white and texture can be paired to create some truly eye-popping designs.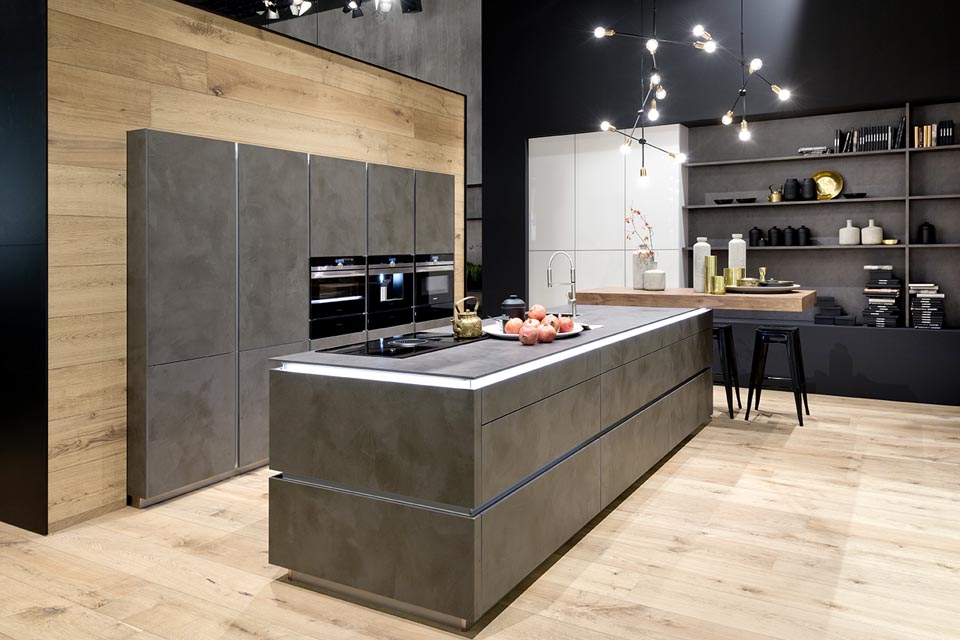 Nolte Handleless Kitchen in Portland hand polished concrete.
5. Additional Spaces

Utility rooms are great for storing the functional machines, the washing machine and tumble dryer. Add a sink and a lot of the untidy work can be closed off from view. There is a growing need and want for a larder or pantry in addition to the utility room. With kitchens often part of a super-room design, a portion of the space can be divided off to form a pantry where everything can be laid out sensibly and stylishly and is one of our favourite kitchen trends for 2021.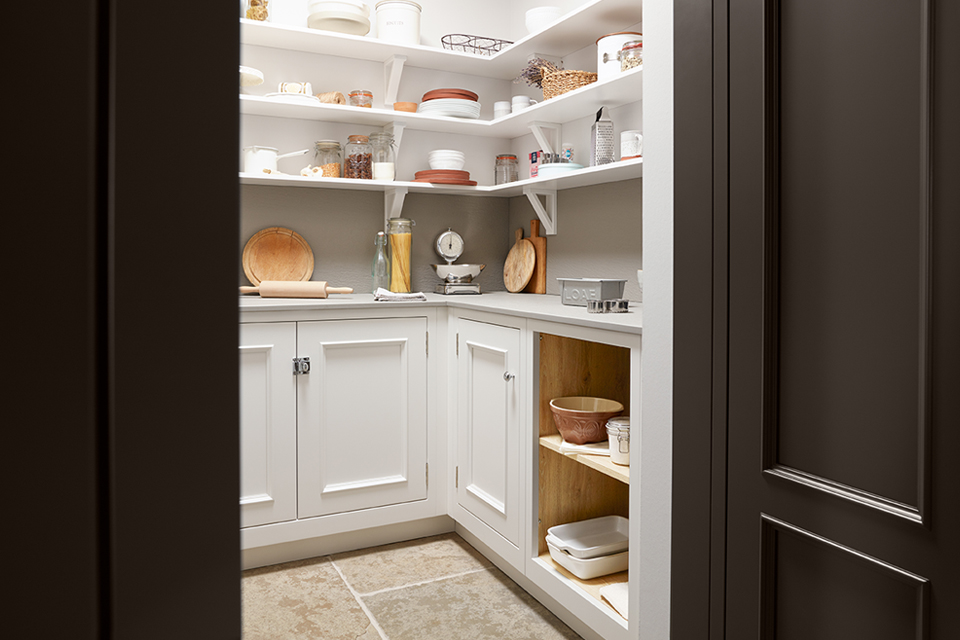 Pantry Unit hidden behind concealed doors in a 1909 Kitchen
6. The Art of Display

With the world seemingly moving at increasingly fast speeds, we need spaces to relax and slow down. Carefully curating the kitchen area to display cookery books and decorative pieces. Dresser units and glazed display units are increasingly planned into the kitchen area to achieve a homely feel that can act as a calming influence. Creating a haven to hideaway in, away from the rigours and demands of modern day life is a growing trend in kitchen design.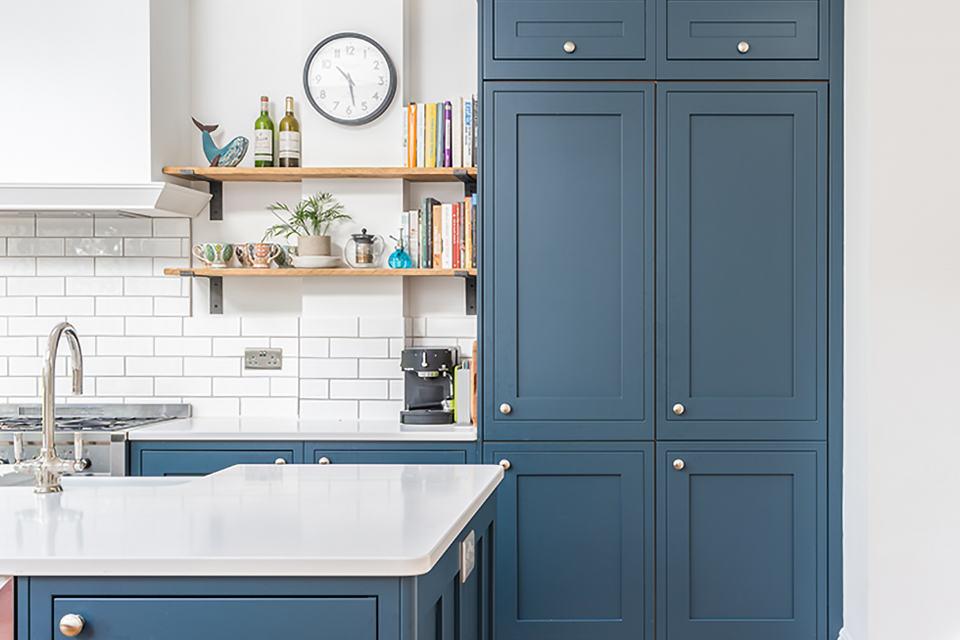 Curated Shelves in a recently installed 1909 Kitchen
7. Colour Pops

The explosion of colour options means there are literally hundreds of combinations that are possible for cabinetry within a kitchen. The brave are reaping the benefits of stunning colour combinations. If choosing a striking colour for your units is too scary, a feature wall can be painted to give that pop of colour. Choosing colour is a personal thing. We all respond to different colours differently. Trends come and go, so choose a colour that speaks to you and will give you a feel good factor in the long term.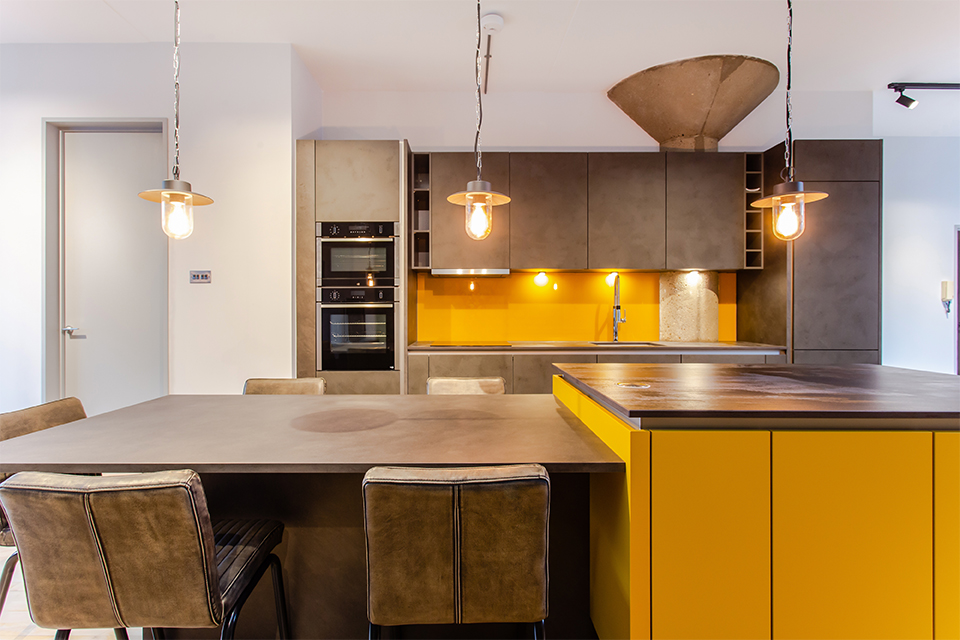 Mustard Yellow pops of colour in a recent Nolte Kitchens installation
8. Luscious Larders

Pantry units or larders as they are more commonly known have been a requirement in a well organised kitchen for decades. With the increase in popularity of modern kitchens, larders with space saving mechanisms have become de rigeur.
Kitchen Larders are also very popular with in frame cabinetry, often garnished with sumptuous wooden inserts and storage areas.
Rather than fill every wall with wall cabinetry, a kitchen can be designed with a specific storage area designed around stylish larders which look amazing and have real practical storage value.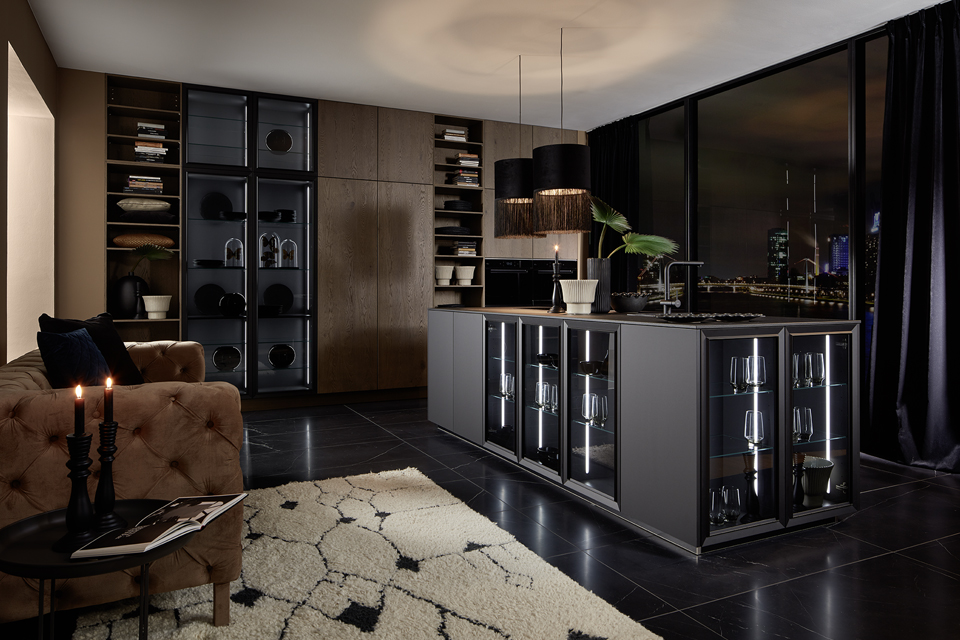 Larder Heaven in this Nolte Kitchen
9. Pretty in Pink

We are not talking lipstick shades, but subtle examples of pink have permeated the offerings of many kitchen manufacturers. We have seen this mostly in traditional cabinetry where a pastel shade can bring a timeless look with a twist to an in-frame design.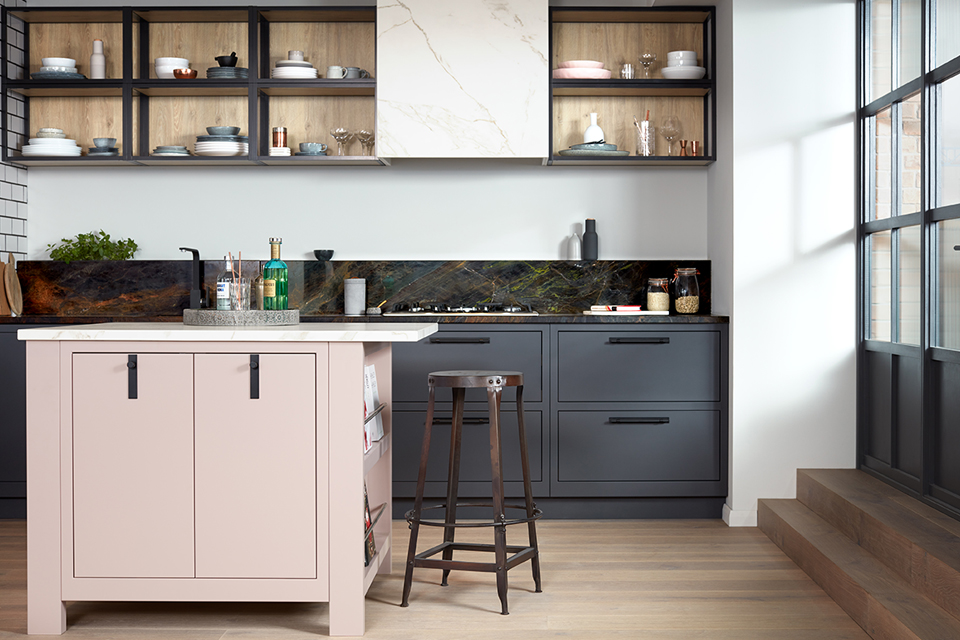 Dry Rose Pink accent colour kitchen island
10. Double Down

When space is no object and opulence is the objective, then only two islands will do. Most people pine for one island to complete their preparation and storage dreams within the kitchen. For those with the space, desire and funds only two will do!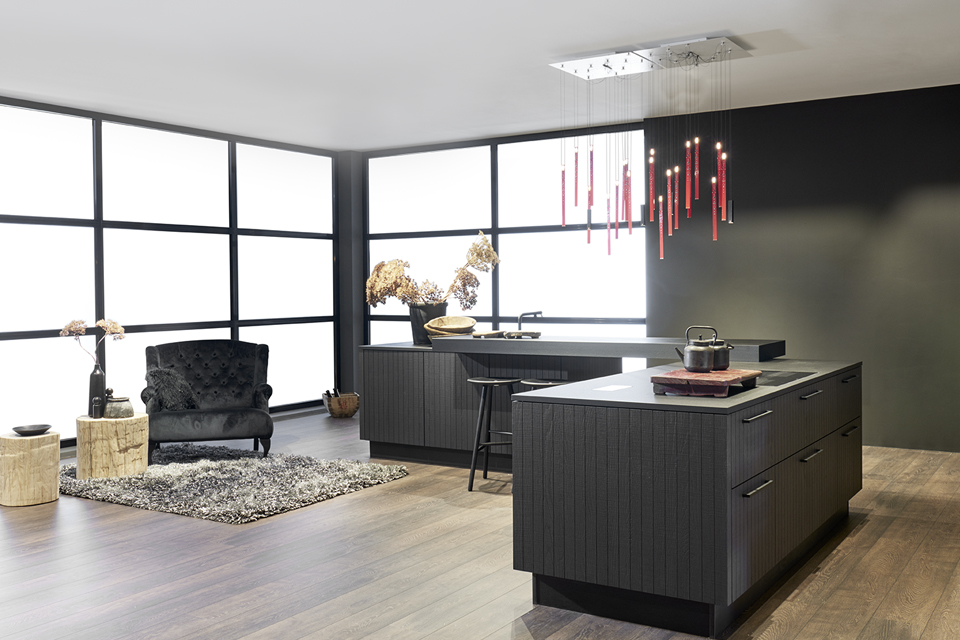 Nolte Kitchen with two islands
If you have seen anything that interests you and you would like to know more, please contact us
Send email
Initially overwhelmed by the options, we decided on C & C Kitchens mainly because of the chief designer Victoria who exuded competence, we were not disappointed. We would recommend C & C Kitchens wholeheartedly.
Mrs Gollop, Hertford
Completely seamless from start to finish ! Couldn't beat them ! A great job well done.
Mrs Woolard, Cheshunt
Fantastic design, competitive pricing. This is my second kitchen I bought from C&C and I'll definitely be back should I need another.
Mrs Brandon, St Albans
C & C Kitchens
24, The Fairways New River Trading Estate
Cheshunt
Hertfordshire
EN8 0NL