Blog
Kitchen range features, industry articles and C & C Kitchens' latest news.
Calm kitchen for a busy family
Published 12/09/2015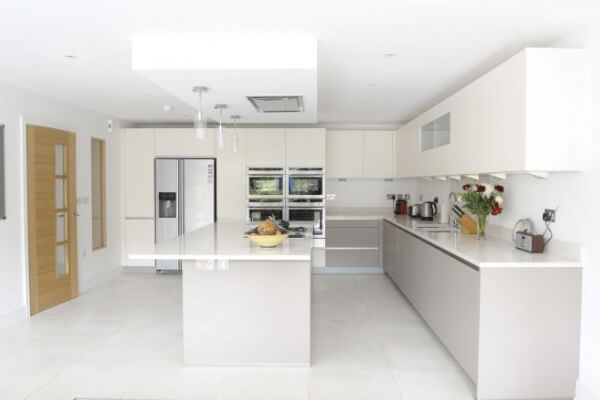 A Nolte Manhattan Handleless Kitchen


We were delighted to design this beautiful Nolte handleless kitchen, which needed to fit in with the complex needs for this charming, yet busy family. The kitchen itself is set back from direct sunlight, and although the obvious choice would be gloss white furniture, this was not the look that these clients wanted. After careful deliberation, this family chose Nolte Manhattan Wood Pore Lava, for the delicate grain effect, and Touch Magnolia for the tactile qualities, both of which complemented the earthy tones of the flooring. 30mm Silestone Blanco Norte Quartz worktops were selected to tie the whole theme together. This colour palette enhances the calming and relaxed setting which these clients were looking for, and took away the boxed in feeling without being plain and boring.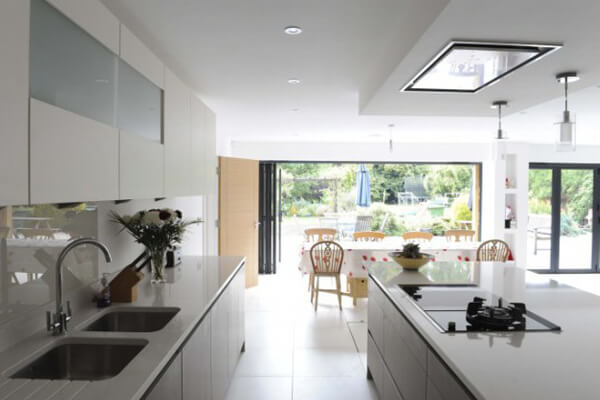 View to the garden from this beautiful Nolte Handleless kitchen.
The Mother of the family works full time, with a demanding job, and she needed a kitchen where she could prepare and cook meals for her children, who all eat at different times due to their different commitments. We incorporated into the design of this Nolte kitchen a microwave oven and an induction hob, which enable family meals to be prepared quickly and easily. A warming drawer was also incorporated into the design, as it is a useful tool if members of the family eat at different times. Whilst serving dinner to one child, the mother can now help another child with homework, and food can be placed in the warming drawer until the eldest child is ready to eat.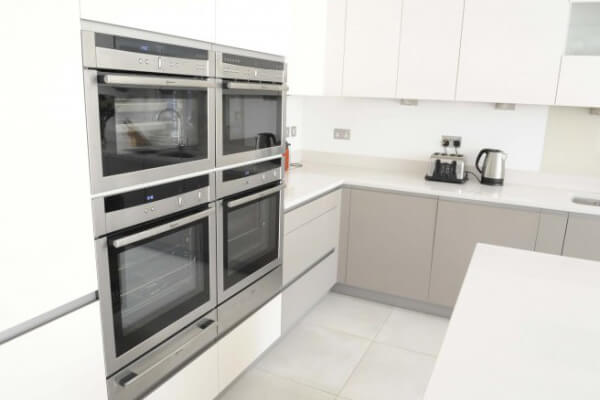 A collection of Neff appliances, plus warming drawer and accessory drawer completes this Nolte Manhattan Handleless kitchen.
The Father of the family works in the food industry, designing sauces that we see on supermarket shelves. He needed a kitchen where he could enjoy experimenting and creating new and exciting sauces. He was not prepared to exchange his favourite pots and pans for induction suitable pans, so a domino gas hob was incorporated into the kitchen, its sleek design complimenting the induction hob.
At the weekends, when the family get together they have the steamer oven and the second oven for more leisurely and also more technical cooking. With incorporating all these appliances into this Nolte Handleless kitchen, it ensures that the kitchen works well for the whole family.
Please ask our designers about what appliances would best suit your needs when designing your new kitchen.
Initially overwhelmed by the options, we decided on C & C Kitchens mainly because of the chief designer Victoria who exuded competence, we were not disappointed. We would recommend C & C Kitchens wholeheartedly.
Mrs Gollop, Hertford
Completely seamless from start to finish ! Couldn't beat them ! A great job well done.
Mrs Woolard, Cheshunt
Fantastic design, competitive pricing. This is my second kitchen I bought from C&C and I'll definitely be back should I need another.
Mrs Brandon, St Albans
C & C Kitchens
24, The Fairways New River Trading Estate
Cheshunt
Hertfordshire
EN8 0NL