Blog
Kitchen range features, industry articles and C & C Kitchens' latest news.
Are Boiling Water Taps Worth It?
Published 21/02/2020
BOILING TAPS EXPLAINED
Find out the pros and cons of instant-hot-water taps, how much they cost, and how big brands such as Franke, InSinkerator and Quooker compare.
Boiling-water taps provide hot water instantly without needing to turn on the kettle. When cooking you won't need to boil the water in a pan on the hob. As the kettle can be unsightly and can also be a pain to use and maintain in a hard water area, boiling-water taps are a convenient solution. A boiling-water tap is a integrated element of your kitchen, in that it needs a plumbed in connection, an electrical connection and fits through your worksurfaces like a traditional tap.
We've highlighted the advantages and disadvantages to help make up your mind whether you need to invest in a boiling-water tap. There are many brands offering boiling water taps and we try to break down the options of as many as we could below.
You can also jump straight to a particular section using the links below:
Hot-water tap advantages and disadvantages
Hot-water tap running costs
Hot-water tap features
Hot-water tap comparison
You Tube Video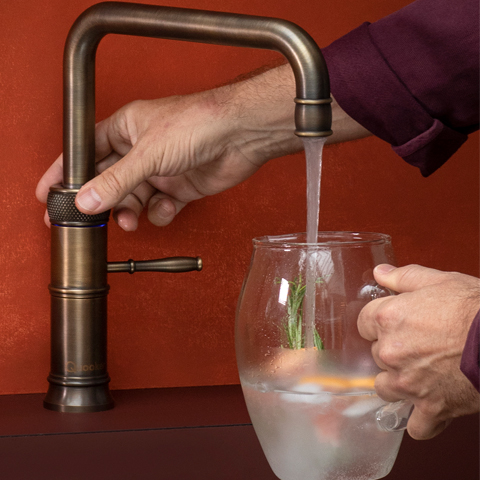 Why consider installing a boiling water tap?
The main selling point of a boiling tap is that the hot water flow is instantaneous. With a kettle you need to fill it up and wait for it to boil. Boiling Water taps take water from you house's main cold water pipe and store it in a tank which is fitted into the sink unit of your kitchen. This tank will keep the water at a warmer temperature and then boil it quickly when required. You turn your boiling water tap and – hey presto – no waiting, no fuss, boiling water flows straight away. Pans, mugs and cups can be filled directly from the taps spout , making them simple and easy to fill just the amount of boiling water you need. As you only take what you need, boiling water taps are less expensive to run.
ADVANTAGES
The safety features of Hot water taps ensure that the risk of scolding is less than using a kettle. Handles are childproof and the sides of the taps are insulated to prevent any scolding.
Worktop space will be increased as the need for a kettle is eliminated. Anyone with dexterity problems or issues lifting heavy kettles may find hot water taps an easier option.
Most hot water taps sold today have an integrated mineral filter which will help remove any harsh tasting chemicals.
If you live in a hard water area, most Hot water taps will come with (or have an option to buy) an additional charcoal filter to soften the water. This will prevent limescale build up and extend the life of the tank which stores and heats the water.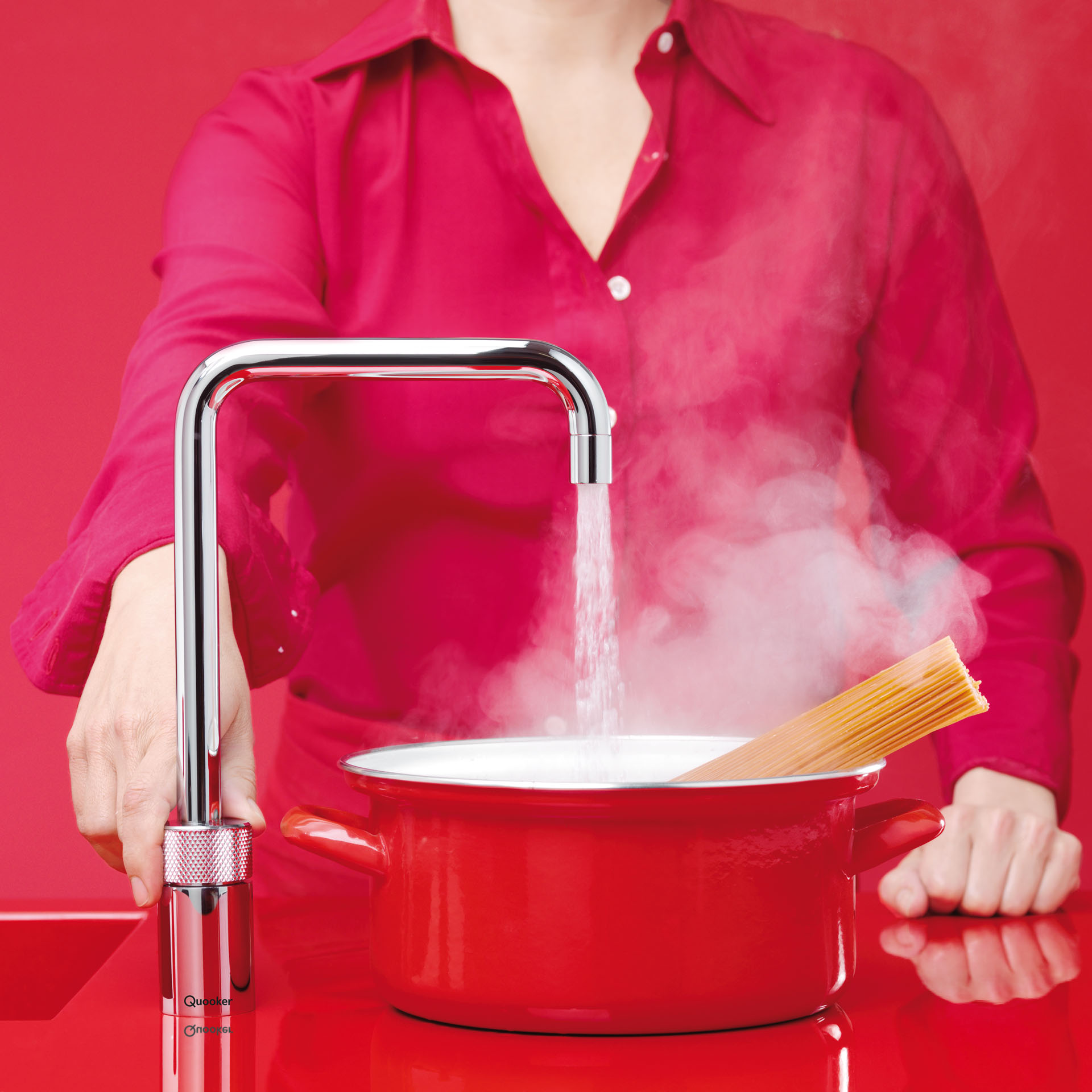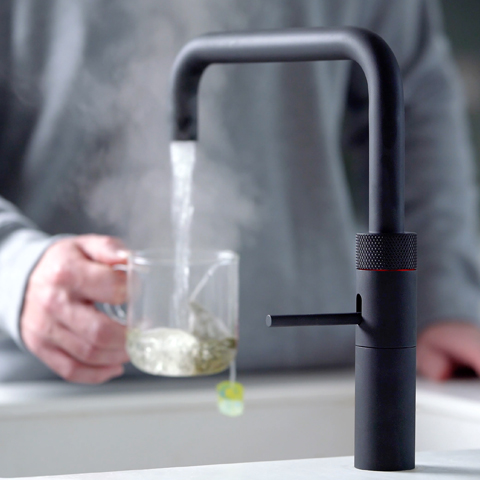 DISADVANTAGES
The price of Hot Water taps is the main sticking point with purchasers. With the entry point for hot water taps at about £ 400 -500 and some high end models costing £ 2000, the kettle will often seem the sensible, cost effective option.
Some boiling water taps are available with fitting included in the cost price, but not all. They can be installed by the end user but would normally be installed by a plumber the cost of this needs to be allowed for if purchasing a model which does not include installation. Replacement filters for hard water filters and servicing costs need to be allowed for also.
Boiling Tap Running Costs
Most manufacturers agree and will promote the fact that hot water taps are more economical to run than a kettle.
Quooker states on its website that one of its taps will cost 3p per day to run when left on standby. The approximate cost of boiling a kettle which contains a litre of water is about 2p.
So, if you have just two cups of coffee or tea each day, a hot water tap will save you money on you electricity costs.
The initial cost of the taps, however, mean that the upfront costs wont be recouped assuming you keep the same kettle for the lifetime of the tap. If cash is key, then a kettle will be the cheapest option.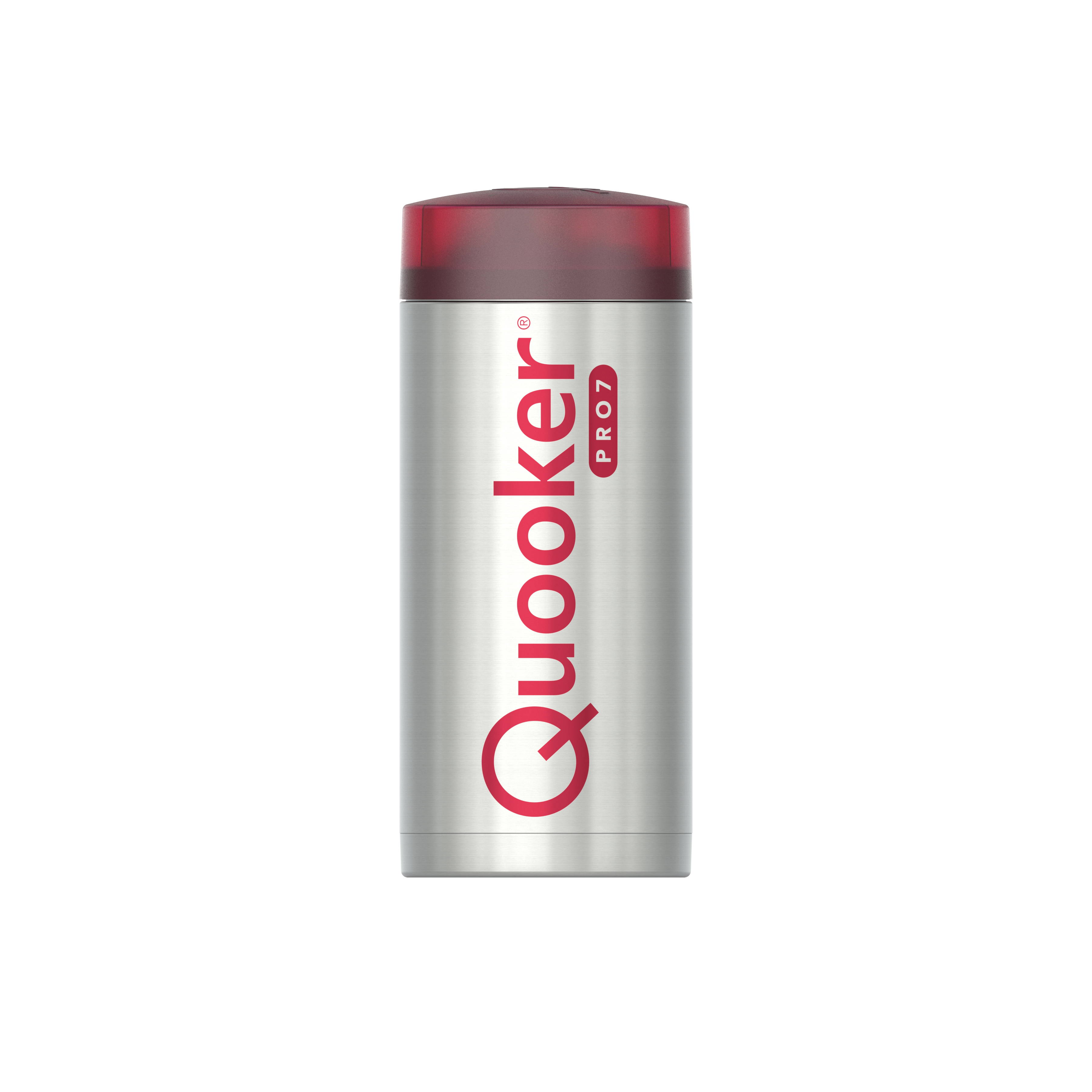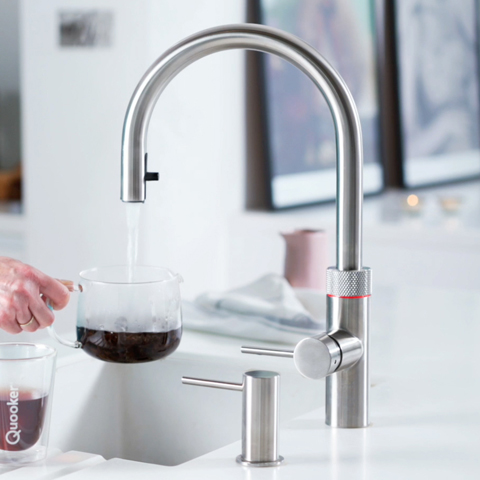 Features of boiling taps
Boiling Taps are available in many different variations. Essentially they fall into 4 categories: Boiling water only taps which are normally separated to you main kitchen tap and only dispense hot water; Two in one taps, which will run cold and boiling hot water; Three in on taps, which can dispense boiling water as well as carry out the work of your normal tap by delivering normal hot and cold water (with these taps, you only need one tap in the kitchen).
The most advanced taps are the four in one taps, which will deliver normal hot and cold as well as boiling water and chilled cold water. With the advent of the Quooker Cube, this cold filtered water can be carbonated in order to dispense cold filtered sparkling water. Most taps will have tanks which have a capacity of 2 Litres. The largest tanks available can holt a whopping 11 litres.
COMPARE BRANDS QUOOKER
Quooker's taps start at £950 for the Nordic Round model. The most expensive 4-in-1 model with Cube cold filtered add on will come in at a whopping £1,890. Quooker offer free installation. Quooker have a vast array of taps in many different finishes. Their Fusion and Flex models have a single spout to deliver all water with the Quooker Flex offering a flexible pull out spout.
Quooker have three tank sizes available: three-litre, seven-litre and 11-litre. Each hot water tank has a mineral filter built into it, which should last five years. In hard water areas, Quooker recommends purchasing it's in line charcoal filter which will reduce limescale ( The cost for this is £ 245, with replacement filters costing £ 90). Quooker also sell a cold-water filter to make drinking water taste better. It's available on the Flex and Fusion taps and needs to replaced every six months.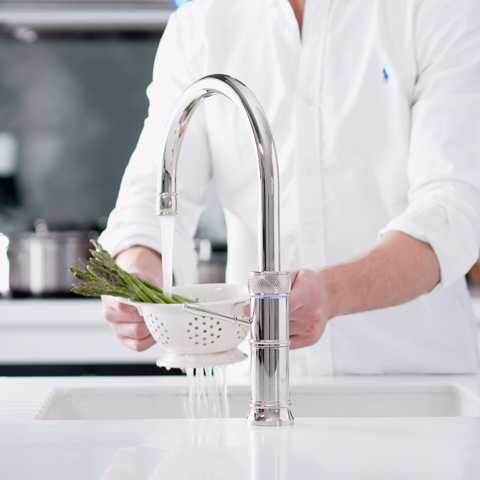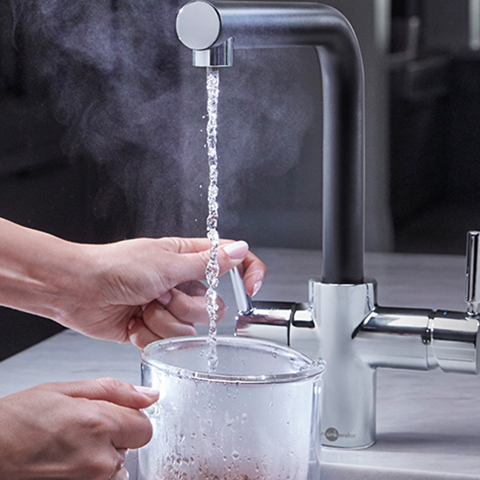 COMPARE BRANDS INSINKERATOR
Insinkerators' taps start at £ 550 without installation. InSinkerator does not have as wide an offering as Quooker with just 5 different taps. A 3-in-1 tap with cold, hot and steaming hot water is available for £729 with installation included. InSinkerator now produce 4-in1 models. All Insinkerator taps come with built-in filters. The size of the tank in the InSinkerator models is 2.5-litre. InSinkerator recommend changing the filter every six months. Two filters costs £ 89.
COMPARE BRANDS FRANKE
Franke's Boiling taps start at £ 999, with its top model, the Omni costing £ 1500. 3-in-1 models include the Minerva which, as above, will dispense hot and cold filtered water as well as boiling hot water. The four in one version is called the Omni and will provide normal hot and cold, cold filtered and boiling water. Replacement filters will require replacing every four to six months. Replacement filters costs £40 and there is a warning light to let you know when it is time to change it.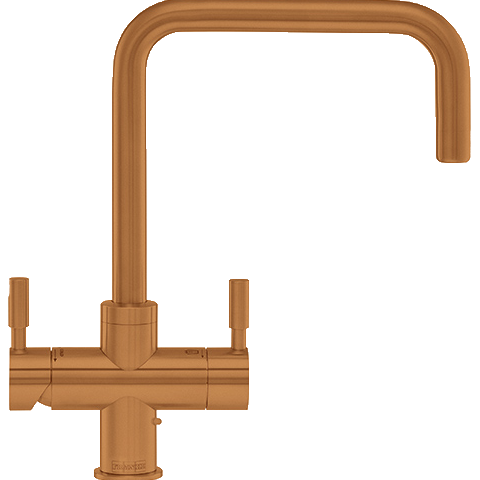 The above brands are the market leaders in Hot Water taps, but they are by no means the only brands available. Other options include:
Please click on the link above to take a look at the taps these companies have to offer. You may use these links to purchase their hot water taps on Amazon.
Initially overwhelmed by the options, we decided on C & C Kitchens mainly because of the chief designer Victoria who exuded competence, we were not disappointed. We would recommend C & C Kitchens wholeheartedly.
Mrs Gollop, Hertford
Completely seamless from start to finish ! Couldn't beat them ! A great job well done.
Mrs Woolard, Cheshunt
Fantastic design, competitive pricing. This is my second kitchen I bought from C&C and I'll definitely be back should I need another.
Mrs Brandon, St Albans
C & C Kitchens
24, The Fairways New River Trading Estate
Cheshunt
Hertfordshire
EN8 0NL