Blog
Kitchen range features, industry articles and C & C Kitchens' latest news.
How to Choose the Right Kitchen Worktop
Published 10/05/2021
CHOOSING THE BEST WORKTOP FOR YOU
Your choice of kitchen worktop is one of the major decisions of your kitchen project as it has a visual impact second only to the cabinetry. Once the kitchen layout and cabinets have been chosen, the next most important choice is the worktop material and colour choice. You will need to ask yourself some questions about how you are going to use your worktop and also compliment the cabinetry that you have chosen.

The choice of composite, concrete, wood or stone will come down to how it combines with your choices and routine. When you question yourself on how you will use the kitchen, you will find yourself eliminating some options as not practical for the way you use the kitchen. Someone who prepares food from scratch and enjoys cooking complex recipes or who bakes a great deal will probably not want a surface that is hard to maintain and keep clean.

If you read the pros and cons below, we will be able to guide you through your options. You can also jump to a particular section usinig the links below:

YouTube Video
Granite Kitchen Worktops
Quartz Kitchen Worktops
Timber Kitchen Worktops
Laminate Kitchen worktops
Glass Kitchen Worktops
Marble Kitchen Worktops
Solid Surface Kitchen Worktops
Steel Kitchen Worktops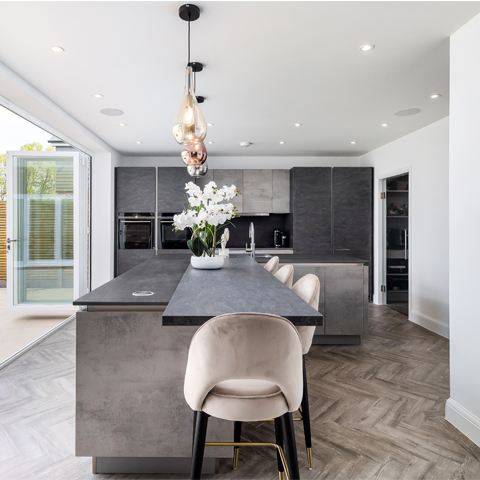 CHOOSING THE BEST KITCHEN WORKTOPS
Your kitchen worktops will be used for preparing, serving and, potentially, dining and will need to withstand regular, intensive cleaning. They are a natural focal point in your kitchen, complimenting the kitchen cabinets and kitchen flooring, and have become a key part of the design process. You're going to be using them multiple times a day, so it's important to choose a kitchen worktop type – or types if you're picking more than one material for your kitchen – that you like the look of, as well as a surface that will suit your lifestyle.
As your kitchen surfaces will need to deal with daily cleaning, preparation of food, and most likely, people eating at a counter or breakfast bar, the following will need to be considered:

Will you need an easily maintained surface? Are you prepared for extra maintenance? Will you be extra careful if you would like a natural product that needs more care?
Do you regularly put hot pans down on to the worksurface?
Do you have children who will leave fingerprints? If so, you may need a matt finish worksurface.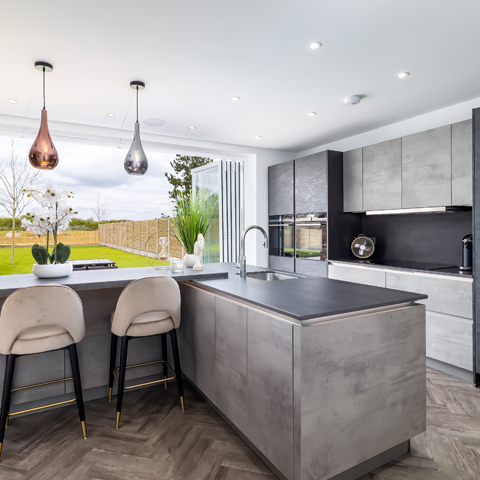 THE IDEAL KITCHEN WORKTOP FOR YOU
The options commonly chosen are stone, wood, composite (man-made surfaces) and laminate. Each have their pros and cons.
Exotic choices include brass
, stainless steel and concrete. They
are fast becoming popular as a way to create that fashionable industrial look.
Natural stone and wood
, which have many grains and patterns to choose from, look fabulous in any kitchen. These surfaces, however, can scratch and stain and require sealing on regular basis.
Man
-made materials
like quartz or Corian, are easier to clean and are non-porous durable worktops.
For those with a budget in mind,
laminate worktops
are probably the best option. The chipboard core is laminated with a plastic covering. These coverings have got more intricate and textured over the years. The latest laminate worktops can provide convincing imitations of wood grains, quartz and marble surfaces.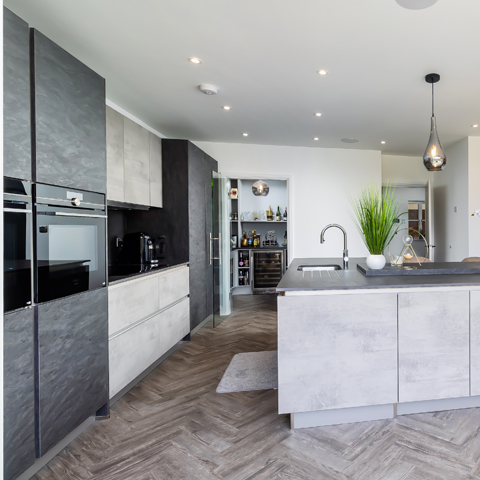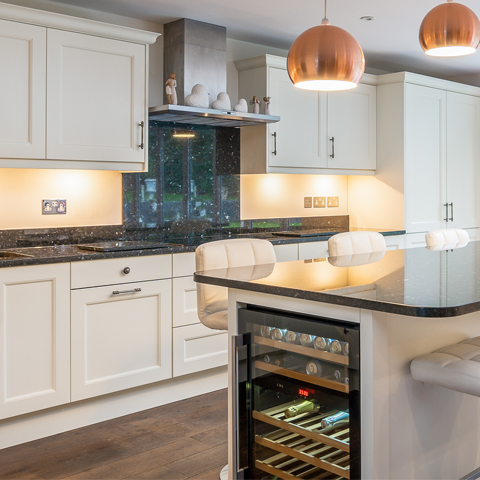 GRANITE WORKTOPS
Pros:
Hard wearing
Fairly Heat resistant (although a trivet is always recommended)
Easy to clean (may be harder in hard water areas to keep clean)
Cons:
It is porous (it can stain)
Expensive (compared to laminates)
It can chip on an edge if hit with enough force
What is it?
Granite is an igneous rock formed by volcanic eruptions in Earth's history. The colours will come from different parts of the world ending up cut and polished in your home. If it is sealed properly it should not stain.
How good of a kitchen worktop is it?
Granite is heat resistant, scratch resistant and, if sealed properly, stain resistant. It is a strong natural stone that will be easy to maintain as a kitchen worktop.
Is it easy to maintain?
Granite worktops should only need wiping down with a soft cloth and a mild detergent solution on a daily basis. There are deep cleaning products which can bring lustre back to granite worksurfaces and can be used yearly.

What are the negatives?
Expense is probably top of a short list of downsides. Natural granite will vary from £ 250 per linear metre to £ 500 per linear metre for some exotic stones. The price is determined by the availability of the raw material and where it comes from in the world. It is porous, so it is not as stain resistant as man made stone such as quartz.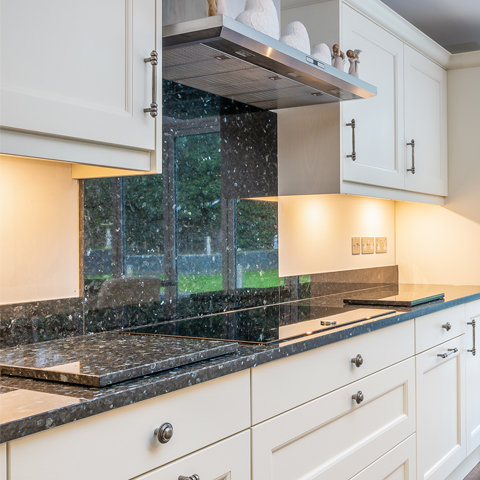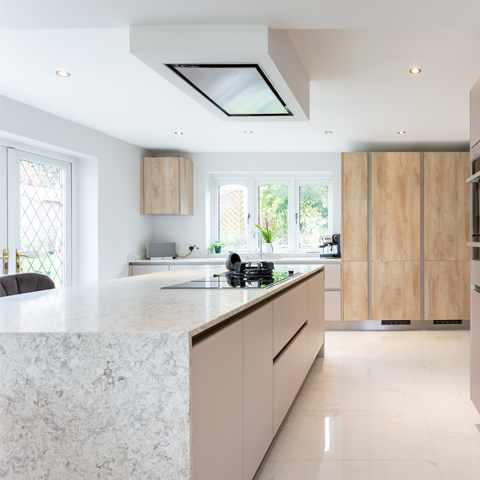 QUARTZ KITCHEN WORKTOPS
Quartz worktops are the man made version of the natural stone options of marble and granite. They mimic the beauty of the natural product but add stronger construction and higher resistance to stains. You can also select single colours not available from natural stone.
Pros:
Extremely hard-wearing
Antibacterial (most manufacturers)
Easy to keep clean (non porous)
1000's of colours to choose from (including imitations of marble)
Cons:
Uniform patterning
Expensive compared to laminate
What is quartz?
Quartz is constructed by taking ground up quartzite ( a natural stone material) and mixing it with resin to bind it and pigment to colour it. It is produce in 20mm and 30mm thicknesses.
How good of a kitchen worktop is it?
The look and feel of Quartz is very similar to natural stones like granite. As it is man-made, it is not porous as it is held together by a resin. It is therefore stronger than granite and is more resistant to heat and staining. With all worktops, we would still recommend using a trivet when taking hot pans off the hob.
Is it easy to maintain?
Cleaning Quartz is essentially the same as with man made stones. Place a soft cloth in a weak solution of cleaning fluid and warm water (1 part per 100 of water) and wipe the surfaces down. When stone is installed, the installation team will often wipe the surfaces down with methylated spirits. If attempting this at home, make sure the room is well ventilated.
What are the negatives?
The cost of quartz worktops varies depending on what manufacturer's brand you choose. Your price should include the template (measuring), cutting, polishing and a return visit to install. Expect to pay anywhere between £ 2000.00 to upwards of £ 5000.00 for some elite brands' offerings. As with natural stone, the cost of the slabs used to make the worktops can greatly vary the price. Another limitation is that quartz colours are uniform as they are constructed using a man-made pattern or single colour.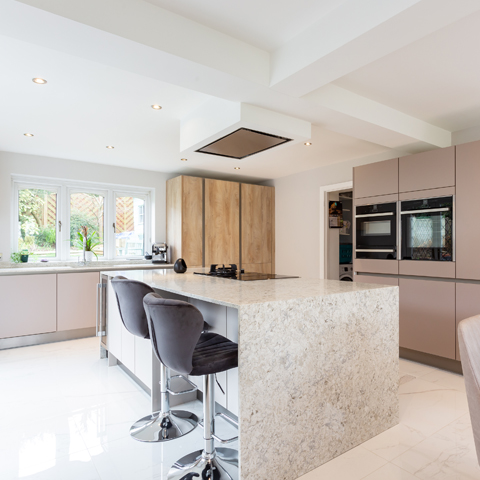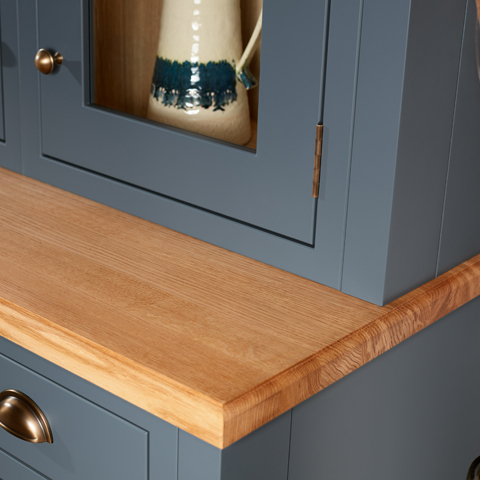 TIMBER KITCHEN WORKTOPS
The lustre of natural wood can be used within a traditional or modern setting and often brings warmth to any kitchen design.
Pros:
A lot Cheaper than Stone
Plenty of wood grains and stained colours
Will develop character with age
Cons:
Requires a lot of maintenance
Wood products may scratch
Can swell if not maintained properly
What are Timber Worktops?
Timber worktops are constructed from small planks of wood which are called staves. They can be purchased in 2m,3m and sometimes 4m lengths and in depths of 600-650mm depending on the manufacturer. There are some worktop suppliers who will offer a bespoke template (measure) and install service. The most popular variants of wood are oak, bamboo, wenge, iroko and beech. However, there are many other variants out there and some species come stained in a colour.
How good of a kitchen worktop is it?
A natural product, wood can add such a feeling of warmth with the beautiful grain that comes woven in every stave. It is much more cost effective than stone worktops. The approximate cost for a full kitchen would be between £400 and £1000, depending on the species of wood. Your timber worktop will age and bring character to the kitchen over the years. Darkening in lustre in the case of lighter species and fading in the case of darker species as oil coats are applied. Light scratches can be sanded out to keep the wood looking it is best.

Is it easy to maintain?
As with most worktops, wiping with a soft cloth soaked in a weak soap solution will clean the timber. Several coats of oil need to be applied in the first six months. After this, a couple of additional coats of oil per year are needed. This protective barrier will ensure that spills do not seep into the wood and stain it. You must not use anything abrasive like a brillo pad as this will scratch the wood surface.

The cons?
Wood requires more maintenance than any other worksurface. Its natural beauty can also be more easily damaged by heat or spills.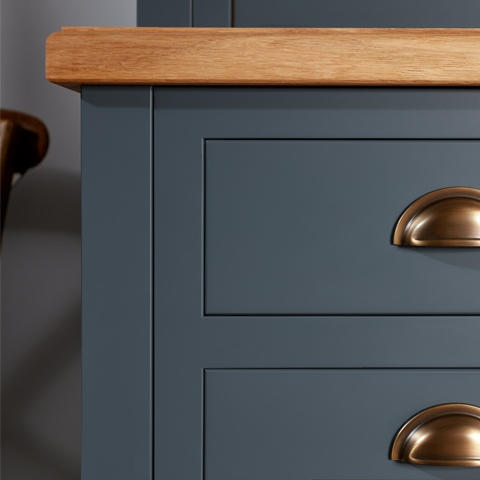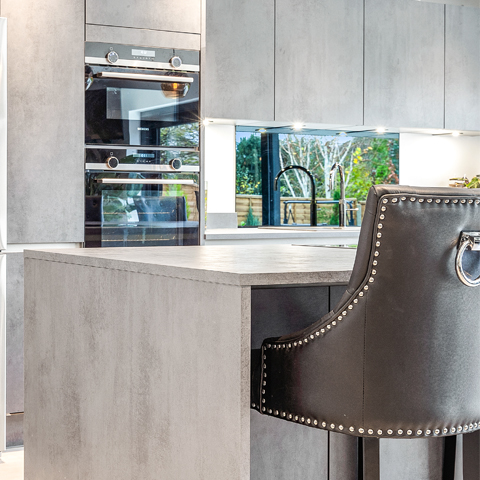 LAMINATE KITCHEN WORKTOPS
Laminate worktops are the most cost effective and are extremely hard wearing. The amount of laminate worktops sold outstrips all other materials. It is constructed using ground up chipboard which is pressed into sheets and then a plastic sheeting is stuck on or 'laminated' to it to form hardwearing surface that is visible.
Pros:
Cheap
Antibacterial
Available in textured finishes.
Easier Cleaning and Maintenance
Easy to clean
Extremely hard wearing – scratch and heat resistant.
A large choice of finishes means it will suit most styles of kitchen.
Cons:
Peeling can occur if moisture seeps in.
It is heat resistant, but high heats can burn or melt the laminate.
Very sharp objects can cut/ scratch the laminate.
What is laminate?
Laminate is made by bonding a patterned thick plastic sheet on to a chipboard substrate.
How good of a kitchen worktop is it?
Laminate worktops are cost effective and the cheapest of all kitchen worktops. A very basic 3m length would start from as little as £ 100. The benefits from selecting laminate are that laminate is resilient to staining and are available in an enormous range of colours and textures. The DIY enthusiast would be able to install laminate as it only requires a router and a worktop Jig (and a bit of patience) to install them.
Is it easy to maintain?
The laminate can be scored or scratched which is not easily repaired. Very hot pans should be placed on a trivet to avoid burning the laminate surface. All laminates can be cleaned easily with a mild detergent solution.
The Cons?
Laminate can look beautiful, but it will never be as hard wearing or resistant as solid surfaces. More expensive laminates will have better heat and scratch resistance, so beware of the cheapest worktops.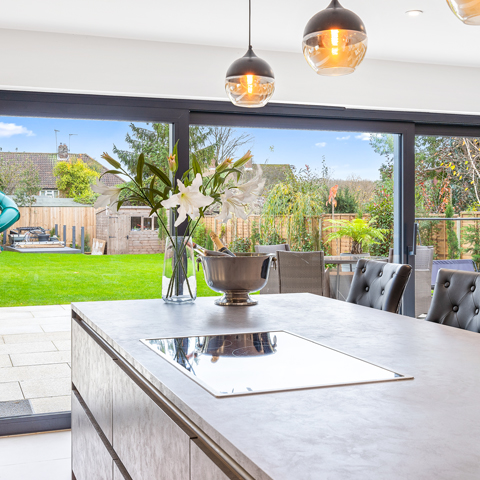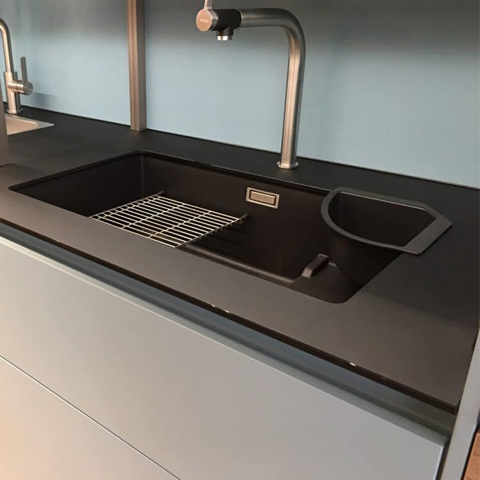 GLASS KITCHEN WORKTOPS
Glass is a more specialist worksurface. Many glass splashback suppliers will not offer it as a service. Like splashbacks, it is painted on the non-used side to give the glass a particular colour. It can even be produced on a 'crackled' effect. It is normally produced in 20mm thickness and can be produced in longer lengths than most solid surfaces.
Pros:
Can be made in larger sizes and dimensions than most surfaces
It is (as most glass) easy to maintain
Very durable
Extremely heat resistant
Any colour can be painted on to the glass
Very sleek effect
Cons:
Very Expensive
Like most glass, smudges and fingerprints are noticeable
What are glass worktops made from?
They are made from toughened glass for maximum durability. Glass worktops are non-porous, and available in a multitude of colours and a variety of finishes. For an eco-friendly worksurface, recycled glass is available. As lots of coloured glass chips that are melted together, this has the appearance of a quartz worktop.
How good of a kitchen worktop is it?
With no fissures, the smooth glass surface will not let any residue into it to stain. Glass is moisture proof with spills able to be wiped clean easily. Glass can make a beautiful worksurface. Glass worktops are highly heat-resistant. For glass worksurfaces throughout your kitchen, expect to pay upwards of £ 4000.

Is it easy to maintain?
Glass worktops can be cleaned with a glass cleaner. Finger smudges and residue would need wiping down regularly. Glass worktops are extremely hygienic
The Cons?
Glass worktops (like all glass) can be scratched. As above, fingerprints and smudges may push the most clinical of cleaners to despair.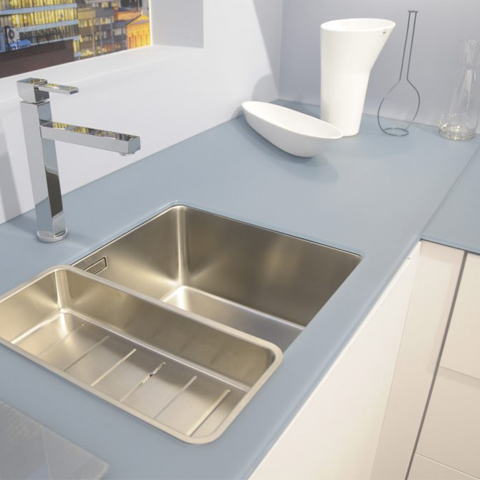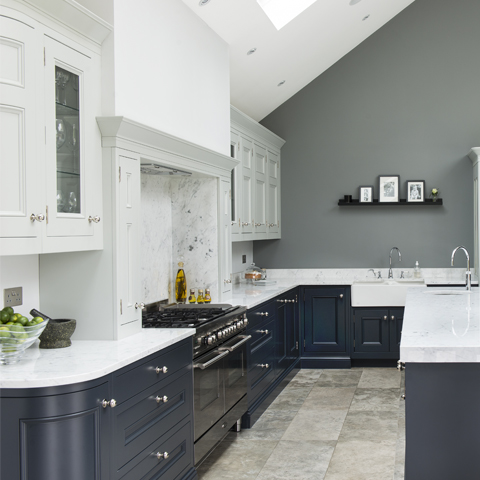 MARBLE KITCHEN WORKTOPS
Marble's inherent natural beauty is undeniable. The swathes and swirls of naturally occurring patterns are mesmerizing. It is a very popular kitchen worksurface throughout the world and can suit most styles of kitchen.
Pros:
Unmistakeable luxury
Highly heat resistant
Easily obtainable marbles can be cheaper than quartz.
Cons:
Easily stains due to fissures in the stone
Can scratch and mark – although this is the stone weathering
What is marble?
Marble is a sedimentary rock, formed by pressure. A natural stone used in classical architecture and sculpture. Marble is steeped in such history that it's use enhances any kitchen.
How good of a kitchen worktop is it?
Nothing makes a statement more than the right piece of marble as a centrepiece for your kitchen. Elegant and assured, it screams luxury. It is a durable worksurface which always stays cool to the touch. Marble will vary in price depending on how much is pulled out of the ground each year. An average kitchen would be upwards of £ 3000.

Is it easy to maintain?
Although it is a stunning worksurface, it is not as easy to maintain as other solid surface worktops. It does not react well to acid, which can eat away at the surface. Fizzy drinks or lemon juice will stain marble and leave a mark where the spill occurred. It will weather, meaning that fine scratches are inevitable. Specialist cleaners and sealants are available from manufacturers like Lithofin which will bring back some lustre and give a deeper clean to the marble. Normal cleaning should be done with a soft, non-abrasive cloth.

The Cons?
You need to be careful when cleaning, avoiding abrasive cleaners. Spills should be wiped clean straight away and not left on the worksurface.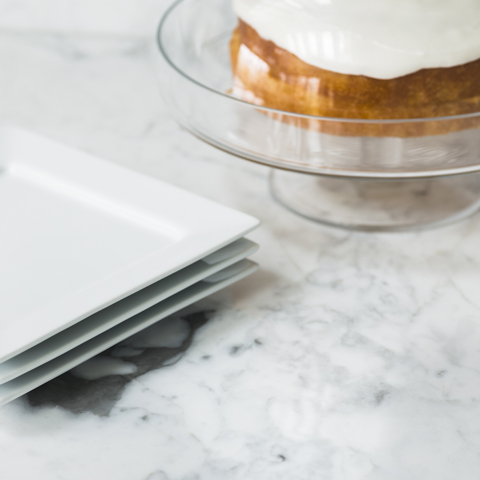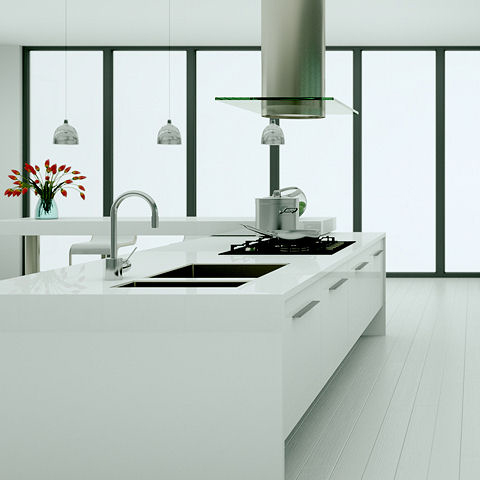 SOLID SURFACE WORKTOPS
Corian was Dupont's creation and when people say Corian to describe all solid surfaces, there are actually more manufacturers such as HI-MACS which is produced by LG.
Pros:
Good heat and scratch resistance
Can be joined seamlessly
Highly Stain resistant
Can be thermoformed into any shape
Cons:
On the expensive side
If marked, it is expensive to repair
What is it?
Solid surface worktops are resins produced in 12mm thick sheets which are bonded to a moisture resistant MDF substrate. They can be joined seamlessly and can be moulded into any shape.
How good of a kitchen worktop is it?
If a smooth, soft sleek look is what you are looking for, then solid surface worktops will be your answer. With single colour options and patterned variants available, these worktops are more suited to modern kitchen design. Although these worktops have a good resistance to heat and scratches, they are significantly less resistant than quartz worktops.
The material expands and contracts with heat, so boiling water can split the surface. Expect to the cost for a standard size kitchen to be upwards of £3000.

How Easy is it to maintain?
Solid surface worktops are very easy to keep clean and just require a regular clean with a soft damp cloth using a weak deterrent solution.
The Drawbacks?
Repairing a damaged solid surface worktop is very expensive.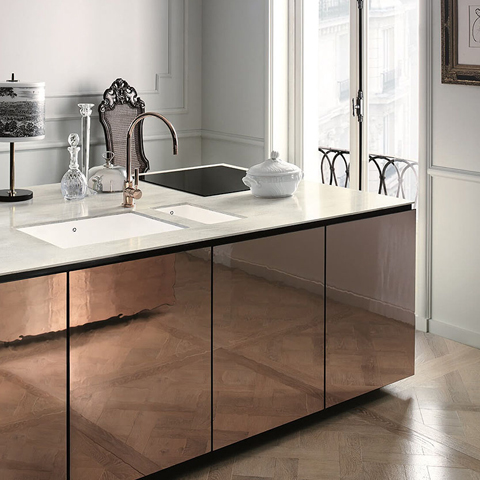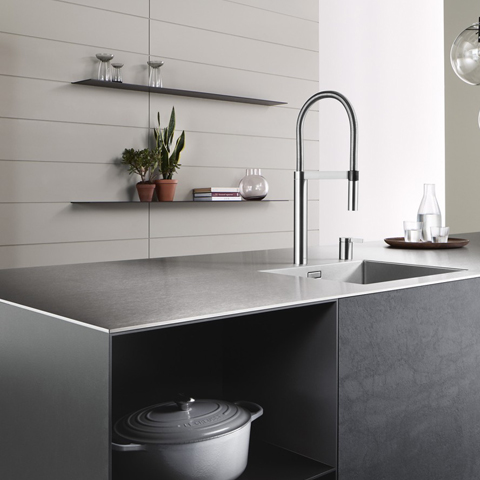 STAINLESS STEEL KITCHEN WORKTOPS
Most predominantly used within commercial kitchens, this surface is at it's best when designed for an industrial style look.
Pros:
Very Durable
Easy to keep clean
Water-proof
Stain resistant
Cons:
Cold to touch
Has a clinical feel
Large areas may be too much for a kitchen within a home.
Why choose stainless steel?
As an island feature worksurface or within a small kitchen, stainless steel can really make an industrial feel kitchen sing.
How good of a kitchen worktop is it?
Like stainless steel sinks, steel worksurfaces will scratch, but this is to be accepted and part of its weathering process. It is a highly durable worksurface with extremely high resistance to heat and corrosion. Totally water resistant and anti-bacterial.

How easy is it to maintain?
Day to day, it can be wipes down and cleaned with a damp cloth and a mild detergent solution. It should be cleaned with a dedicated stainless steel cleaner from time to time to bring back its lustre. For extra shine, rub in some baby oil to the surface.

The drawbacks?
As above, the material will scratch. If you can accept this is just how it is, stainless steel could be for you.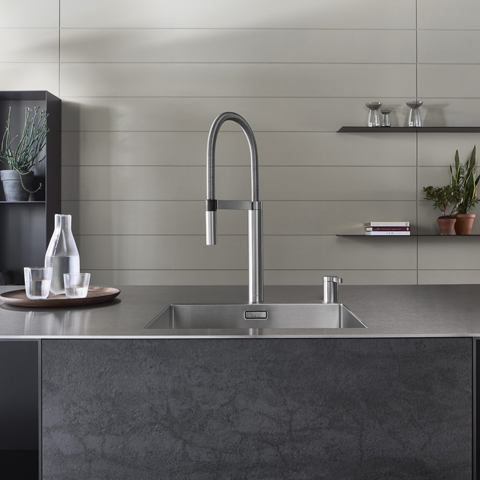 There are other worksurfaces not mentioned above as they are not often requested, but steel options. Concrete, ceramic, copper and tiled worksurfaces are also available. Whatever worksurface you choose, always seek advice and request to see as large a sample of the surface as possible before committing.
If you liked this article, check out our 2021 kitchen trends here
Initially overwhelmed by the options, we decided on C & C Kitchens mainly because of the chief designer Victoria who exuded competence, we were not disappointed. We would recommend C & C Kitchens wholeheartedly.
Mrs Gollop, Hertford
Completely seamless from start to finish ! Couldn't beat them ! A great job well done.
Mrs Woolard, Cheshunt
Fantastic design, competitive pricing. This is my second kitchen I bought from C&C and I'll definitely be back should I need another.
Mrs Brandon, St Albans
C & C Kitchens
24, The Fairways New River Trading Estate
Cheshunt
Hertfordshire
EN8 0NL