Blog
Kitchen range features, industry articles and C & C Kitchens' latest news.
Family Friendly Kitchen Ideas
Published 03/08/2022
Simple Tips for Creating a Family Friendly Kitchen
We all know the kitchen is the heart of the home, it's a place where the whole family can join together for cooking, baking, eating and simply enjoying being in each other's company.
A well-designed kitchen can bring enjoyment and togetherness for the whole family but a kitchen that has been poorly designed can then become the source of stress, mess and chaos. Therefore, working with a designer you can come up with a concept that fits to the 'rules' of a good design but also caters to the whole families preferences and unique tastes.
Designers will understand that you need to be able to put your own signature twist on things but will also be able to help with designs that are better suited to families. For instance, sharp edges and cabinets that show stains like finger print marks aren't ideal for families with young children.
So, to help you along the way, here are some pointers for a creating that family-friendly kitchen:
Focus on what you need, then what you want

When visualising your
dream kitchen
, it's natural for your imagination to run wild. It's a major home improvement and obviously you want to ensure each aspect is up to your expectations. However, when it comes to family-friendly designs, the presentation must take a step back and practicality needs to be precedent. For example, having an elaborately designed art-deco table and chairs or delicate antique ornaments probably isn't going to be the wisest of choices.
So, the first thing to do when designing the perfect family kitchen is to think carefully about what you can include that will make your life easier and stress free. What do you need that will have as little superfluous detail as possible. Once these practicalities are out the way, you can then start to choose a design that will make your heart and eyes sing.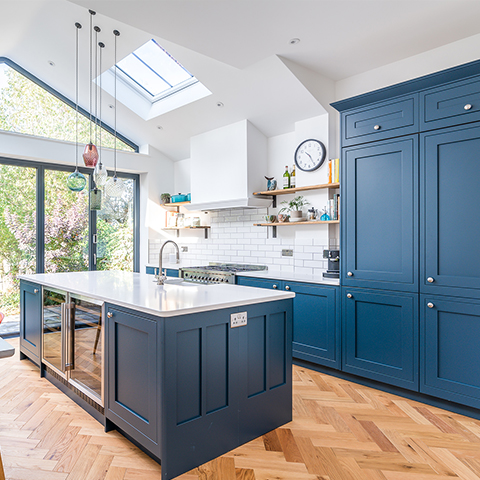 Make your kitchen easy to keep clean

One thing you will never regret is choosing materials that can be kept clean and hygienic easily. Opting for things like glossy tiles, decorative splashbacks and specialist paint that repels stains are all excellent for reducing cleaning times. The same can be said when choosing your kitchen units, opting for matt acrylic with anti-smudge & anti-smear technology is a great choice to make cleaning as easy as possible. As let's face it, avoiding mess and mayhem in a family kitchen is 100% impossible but choosing the right materials will make all the difference.



Add a Burst of Colour to your kitchen

Thinking practically i.e. not choosing white or light cabinets doesn't mean the kitchen has to lack personality, all it means is you need to bring your personal touch into the space subtly and strategically. This could be done by adding bold cabinets, coloured ceramic wall tiles or even creating your own custom splashback. This way you aren't comprising on practicality and still having something totally unique, adding visual interest to your kitchen.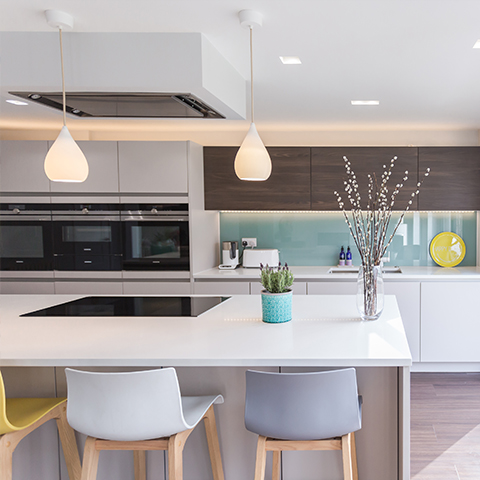 Child-proof countertops and cabinet fronts
Child-proof means any material that can handle children, which we all know means it needs to be pretty durable. When choosing cabinet doors, selecting materials that are easy to clean, abrasion resistant and can be kept hygienic with a quick wipe are super important. Also, choosing soft close hinges would not only help to reduce things like trapped fingers but would also decrease the amount of wear and tear on the kitchen doors.

Countertops of course need to be attractive but they will no doubt be bashed and battered once the children are let loose on them, so choosing a material that has the durability to stay looking attractive long term is the best way to go. The best option for this of course would be natural stone but this can be a little pricey. Quartz or laminate are much more cost effective and they are incredibly hard-wearing, impervious to heat and have a low absorption water rate meaning they can cope with spills, ideal for a family-friendly kitchen.

A few simple safety measures will also certainly make a difference for your family friendly space and to your peace of mind. Consider things like raising appliances such as ovens off the floor, if this isn't an option consider child safety locks or choosing drawers with built-in locking mechanisms.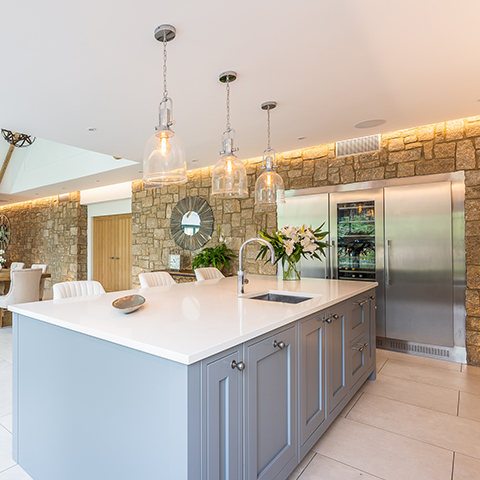 Consider open plan
Open plan is becoming more and more popular among parents with children that are younger and if it's an option it could be worth considering as having a large shared living space can be much better for the family in a social and practical aspect. It means the whole family can be together, whether someone is cooking in the kitchen while another is relaxing or doing their homework, everyone can spend some quality time together. It also means you can always keep your eye on the children.

Go Big with Your Kitchen Island
If there is space in your kitchen to accommodate a large island, go for it. There really is nothing better to encourage the whole family to come together.
When there is potential for several children 'helping out' in the kitchen, what you think might be an adequately sized kitchen island can soon become the opposite. Kitchen islands tend not to be just used for prepping, baking, cooking meals but also as a social space for interaction and enjoyment, although only if the island is big enough to handle it.
A kitchen island is also great for storage too or even an under-counter wine fridge, just remember you would need to consider space for electrics and plumbing if you want a sink or hob in the top.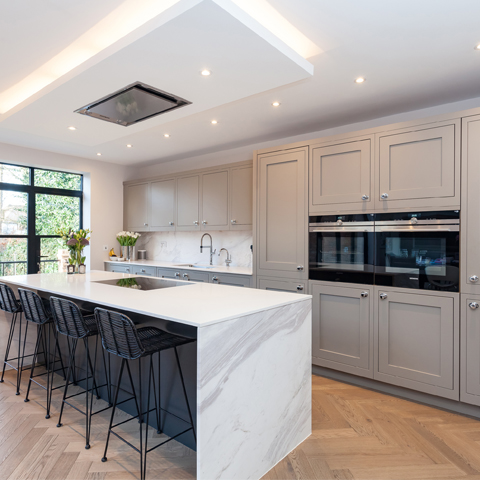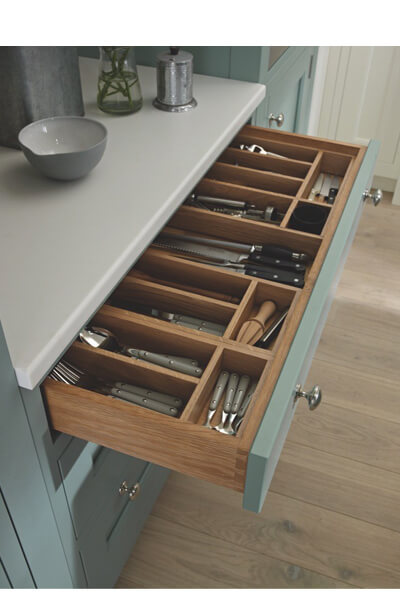 A Place for Everything
Use the vertical space at your disposal to bring additional cupboards, cabinets and shelves into your kitchen. Anything that keeps clutter to a minimum (and keeps curious fingers safe) will make a welcome addition to your family kitchen.

Ensuring there is 'less things' on the surfaces and worktops will not only help with sanitizing and cleaning but will also mean there will be less dust, dirt, grease and grime. It also means there is more free space for the family to enjoy. This can be achieved by many storage solutions such as pantry racks, drawer organisers and Le-Mans corner unit storage.

If you liked this article, check out our 2021 kitchen trends here
Initially overwhelmed by the options, we decided on C & C Kitchens mainly because of the chief designer Victoria who exuded competence, we were not disappointed. We would recommend C & C Kitchens wholeheartedly.
Mrs Gollop, Hertford
Completely seamless from start to finish ! Couldn't beat them ! A great job well done.
Mrs Woolard, Cheshunt
Fantastic design, competitive pricing. This is my second kitchen I bought from C&C and I'll definitely be back should I need another.
Mrs Brandon, St Albans
C & C Kitchens
24, The Fairways New River Trading Estate
Cheshunt
Hertfordshire
EN8 0NL