Blog
Kitchen range features, industry articles and C & C Kitchens' latest news.
Kitchen Storage Ideas
Published 19/04/2022
Kitchen Space savers
If your kitchen space isn't as spacious as those featured in high-end magazines, it's crucial to employ astute and clever kitchen storage ideas and designs. With a myriad of possibilities at your disposal, a touch of thoughtful planning can morph your kitchen into a visually pleasing yet functional space tailored to your requirements.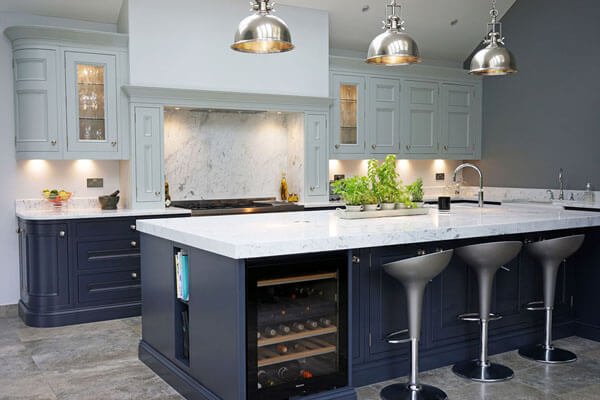 kitchen design:
getting it right
Your kitchen's configuration serves as a fundamental strategy for space creation and conservation, whether you're starting from zero or aiming to enhance your current setup. Initiating your storage revamp requires an understanding of your kitchen usage patterns. Ponder over the following:
What extent of countertop space is necessary for your culinary activities?
Is the ease of navigation between your cooker, sink, and refrigerator a priority?
Which gadgets and tools do you frequently use?
Once you have established this, you can then think about the shape of your kitchen;
What is the best layout for the shape of the room?
U-shaped kitchens allow room for a lot of small units in a small space whereas galley kitchens work better in long narrow spaces.
I
s there a way you can open-up the room and create open-plan space?
This could be knocking down a wall for instance.
All of this can be discussed with a kitchen designer who will be able to help plan the best layout to suit you and your kitchen lifestyle.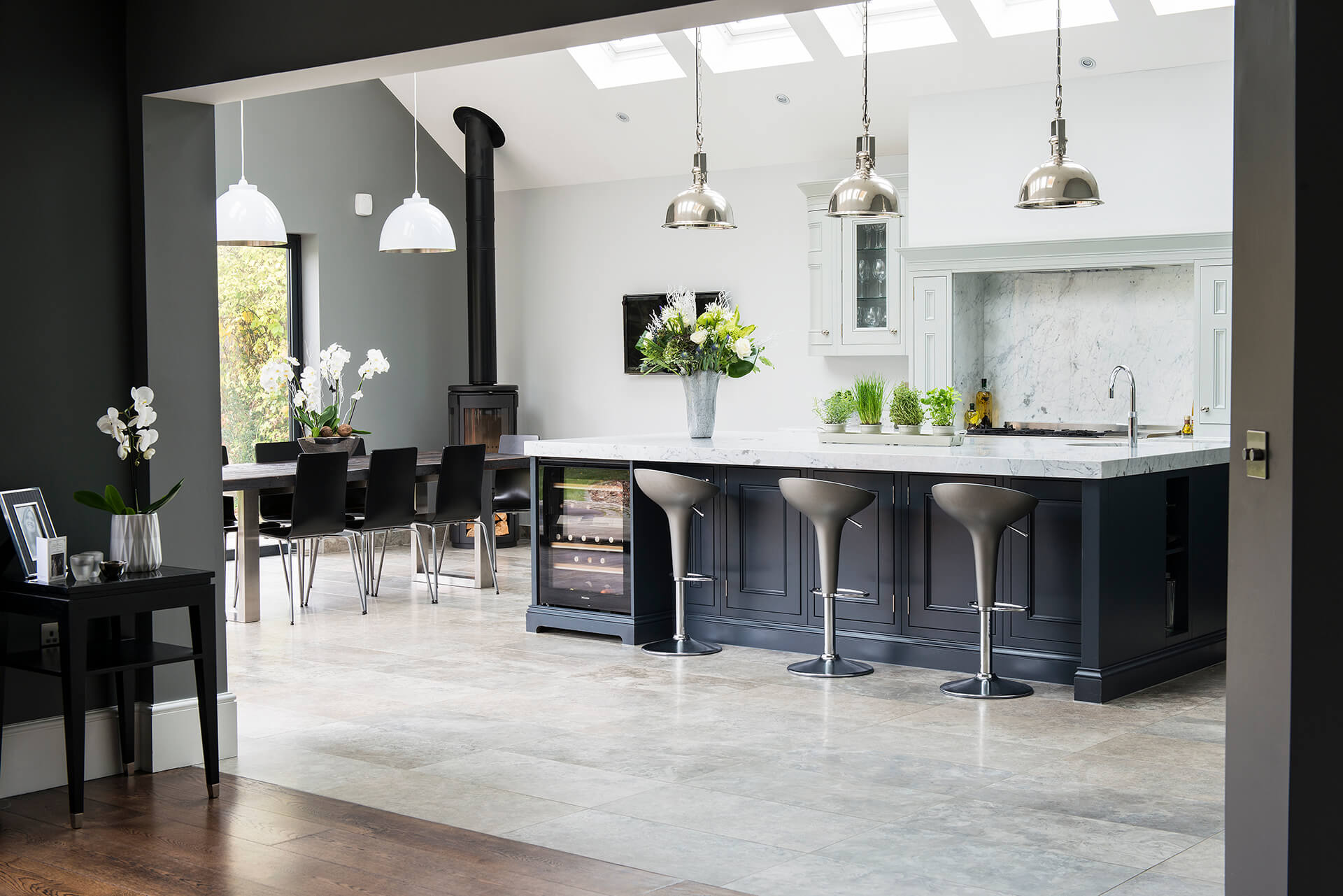 kitchen cupboards:
consider every option
The key is to consider how you can make the most out of
every cupboard
, using all the space, enhancing storage. This could mean you may need to make some sacrifices elsewhere such as lose a small amount of worktop so you can include a full height cupboard.
Bespoke fitted cupboards and taller units can also create more room by taking them up to the ceiling offering more vertical space.
The most common wasted space area in a kitchen is corner cabinets, opting for corner cabinets with carousels are always going to make use of the space better.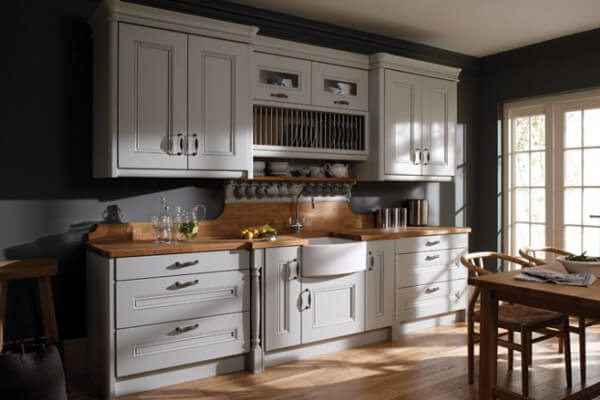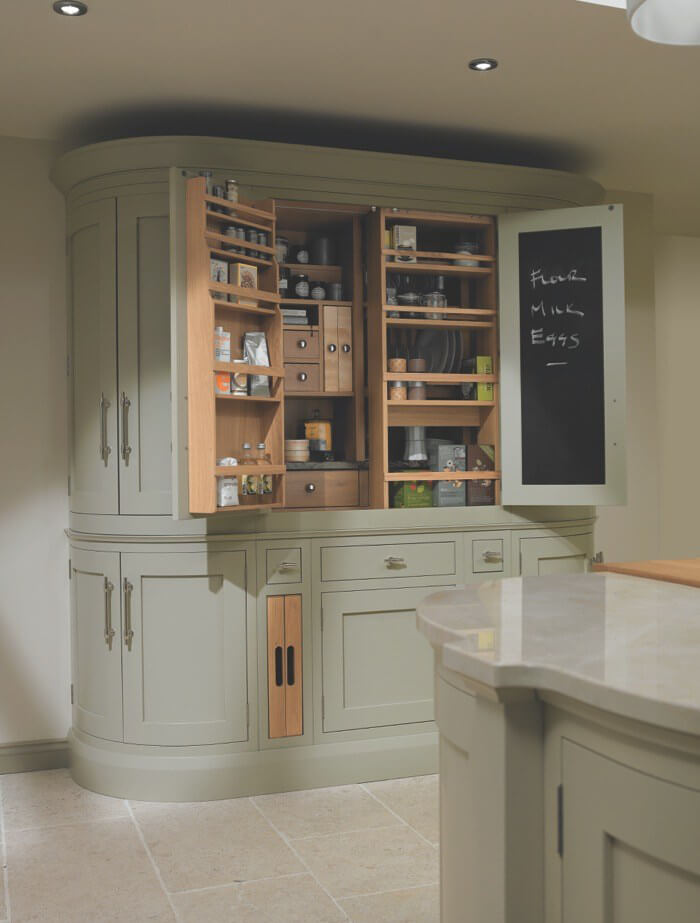 storage:
get creative
These days there are so many creative ways to improve storage all over the house, not just the kitchen. Things such as baskets, shelf-risers, racks, hooks can all be used inside cupboards and drawers and will not only increase storage but keep things organised too. You can also use this same creativity in your fridge, to make sure you can fit in that weekly shop.
Try to think out of the box, even the over looked areas can become useful like the top of the fridge or even the windowsill to house your favourite cookery books. Just ensure by doing this the light to the room doesn't become blocked.

open shelving:
practical &
cost-effective
To give your kitchen more of an open-feel, shelving can be used. It's a great replacement to buying to cupboards, therefore also
reducing price.
Shelves can be installed instead of wall units or even added above the cupboards for extra storage, perfect for the things are rarely used. An important thing to remember is that the items that are stored on the shelves are likely to pick up some kitchen grease and grime, so bear in mind that you may need to spend a bit more time cleaning.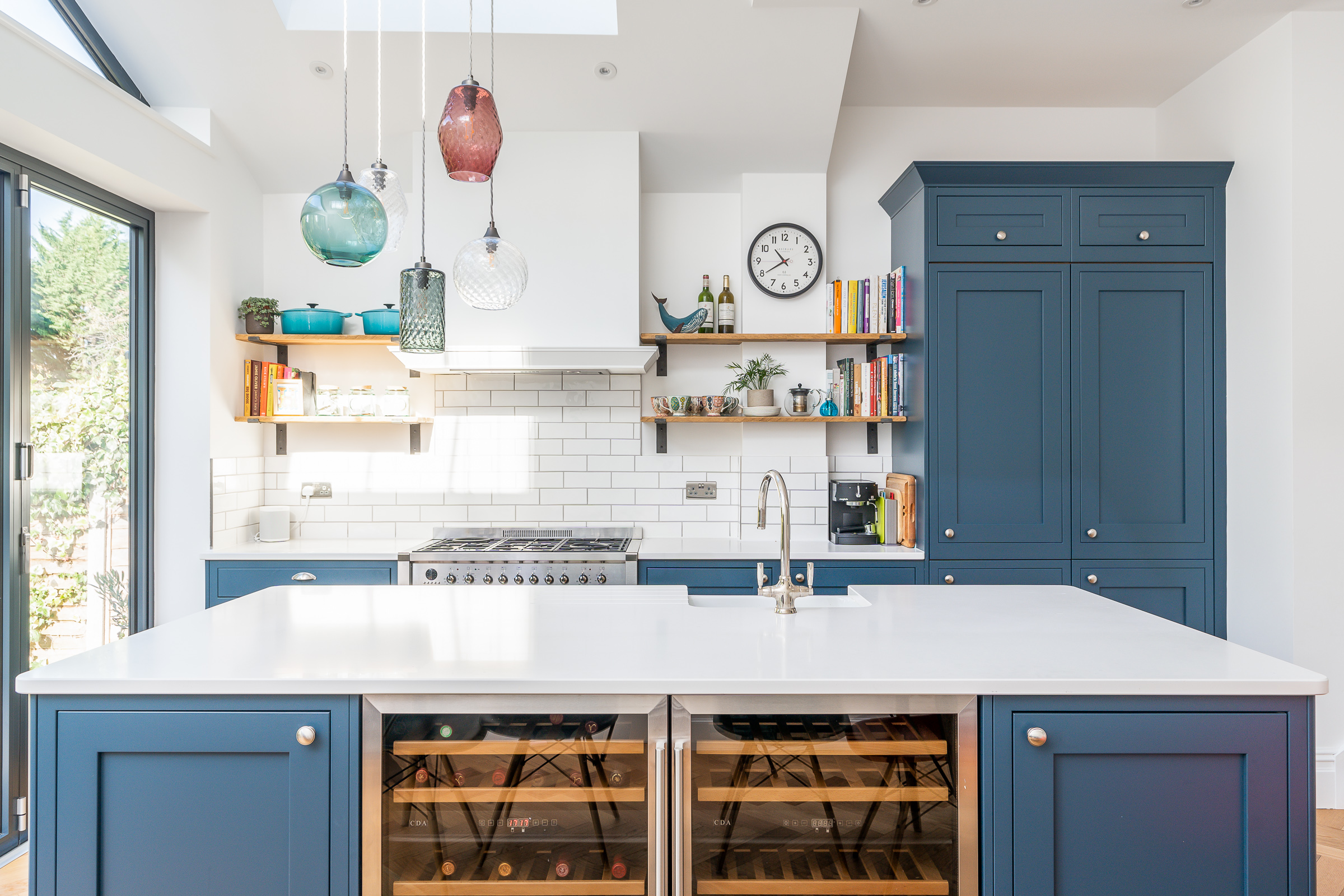 appliances: think compact
Although most people's dream is to have the top of the range cooker and big American-style fridge freezer, this isn't always a practical idea when trying to be space savvy in your design.
Built-in appliances are always going to give a much sleeker, tidier appearance than freestanding and again save you that all important space. When researching for your appliances, try looking for slim-line or compact versions of the same or similar product – they are likely to have the same functions or similar but take up a lot less space in your kitchen. Also, consider whether it is imperative to have certain appliances, for example, yes we all hate doing the washing up but removing a dishwasher from your plan will create a lot more cupboard space.
Do you really need that warming drawer or built-in coffee machine?
Being savvy with your kitchen might sometimes have to come at the cost of losing something that you don't really need to have.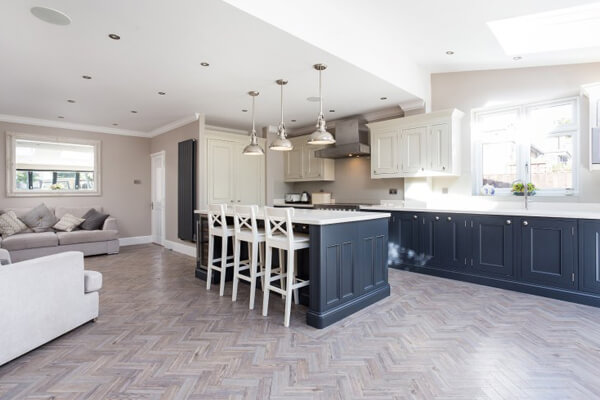 lighting:
be wise
Lighting isn't just about being able to see when it darks, it's so important to give your kitchen a spacious feel. The thing that absolutely needs to be avoided is blocking out any natural light that comes into the room i.e. keeping the windows clear and tidy.
When choosing your synthetic lighting try to opt for bright lights that won't then be obstructed from shade such as ceiling spotlights. Brighten up your worktops with under cabinet spotlighting.
Surfaces can also play a huge part in increasing the light in the room, opting for glossy, reflective or mirrored surfaces will help the light to bounce around the room. You could also consider high-gloss doors, clear glass panes in cupboard doors and reflective splashbacks which will all add light to your room.

colour choices:
play around
Being clever with colour can brighten up a room and make it seem bigger than it is. Opting for same colour cupboards will give a seamless look and make the room appear
'endless'.
This can be achieved with most colours so you don't have to stick to neutrals but it is also best to steer away from very dark colours as this will have the opposite effect.
Another option would be to make a statement whether that's with
splashes of bold colour,
such as coloured splashbacks or creating a feature wall to draw people's eyes to the design rather than the dimensions of the room.
If you're interested in patterns, opting for horizontal stripes will make the room feel wider while vertical will give the appearance of a higher ceiling.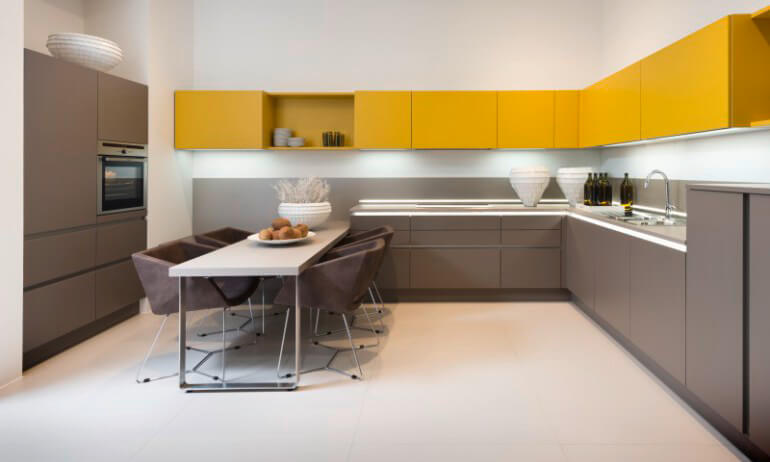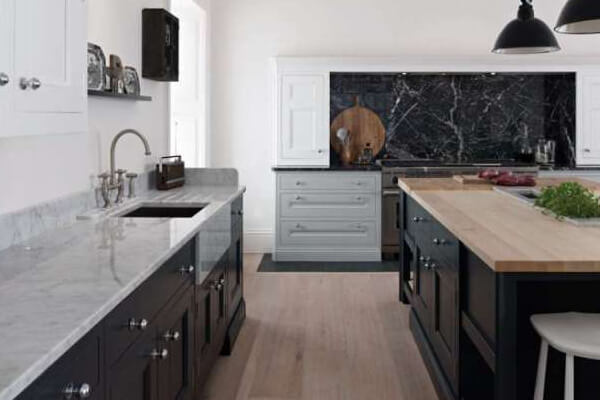 tidy kitchen:
clutter free
Keeping a kitchen tidy and clutter free is vital to keep a space feeling bigger, clu
tter can make any space feel small and overcrowded. Try to keep the worktops as clear as possible by adding hooks to drawers, using magnetic knife racks and as previously mentioned adding shelves to the walls. A clear work top will instantly give you that feeling of space.

If you liked this article, check out our 2021 kitchen trends here
Initially overwhelmed by the options, we decided on C & C Kitchens mainly because of the chief designer Victoria who exuded competence, we were not disappointed. We would recommend C & C Kitchens wholeheartedly.
Mrs Gollop, Hertford
Completely seamless from start to finish ! Couldn't beat them ! A great job well done.
Mrs Woolard, Cheshunt
Fantastic design, competitive pricing. This is my second kitchen I bought from C&C and I'll definitely be back should I need another.
Mrs Brandon, St Albans
C & C Kitchens
24, The Fairways New River Trading Estate
Cheshunt
Hertfordshire
EN8 0NL